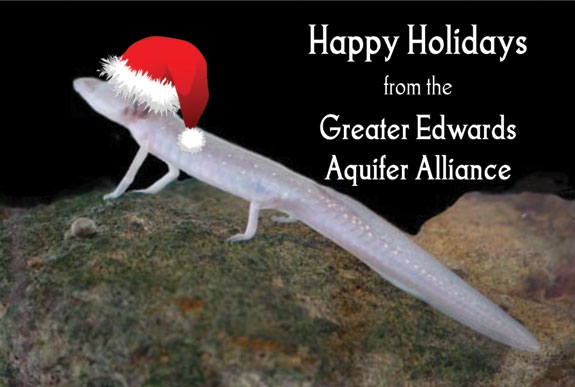 Dear GEAA members and friends,
I am delighted to be here one more year to wish you a Happy Holiday Season. We have made so much progress on so many important issues during the past year; we have a lot to celebrate.
I am especially grateful to our Board of Directors, the GEAA Staff, our member groups, and all of our wonderful volunteers. Special thanks to Travis Mann, Mark Wilkinson, Jim Smyle, Betty Dabney, and our interns from Texas State University, Our Lady of the Lake University, and Trinity University.
None of us here at GEAA, however, would be able to continue the work we love – research and policy development, education and mentoring, and advocacy without your support. Thank you for making this a great year!
The GEAA office will be closed until January 3rd to give everyone a chance to rest up before the Legislative Session begins. Here's to making 2013 another great year for the Edwards Aquifer and the Texas Hill Country!
Wishing all the best to you and yours,
Annalisa Peace
Executive Director
You can always keep up with interesting water news on GEAA's Facebook fan page