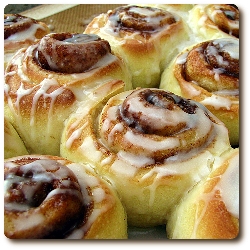 Long-time GEAA supporters Fred and Carol Fisher are hosting a fundraiser breakfast for us next Saturday, March 13th – featuring eggs from their backyard henhouse and Carlos Guerra's famous cinnamon buns while supplies last. Feel free to stop by 334 Shannon Lee here in San Antonio anytime between 9:00 and 10:30 am to break bread (homemade, of course) with us and put some money in the kitty for GEAA while you're there. Contributions based on your ability to pay will all go towards GEAA's work of protecting our water.
Please help us make this event a success – Spread the word by RSVPing to our Facebook invitation and by forwarding this message or distributing the invitation on Facebook to your friends.
If you're willing to donate flour or bring along some finger foods or baked goods the day-of, Carol would certainly appreciate it. Just email her at urbanecologysa@yahoo.com, or give her a call at home (210-858-1976) to let her know you'd like to help.
Thanks so much for your consistent support. With your help, we make progress every day in securing a beautiful future for the Texas Hill Country.
See you next Saturday!